There will be a Civil Rights and Equality Committee Meeting on Thursday 4/7, 5:30-6:30 at DHS library. The agenda is as follows: - Review mission and purpose of committee - Discuss components for end of year board report - Discuss plan for future of committee

Dirigo Drama Presents - Million Dollar Meatballs Dirigo High School Cafeteria Saturday, April 9th - 7PM Sunday, April 10th - 4PM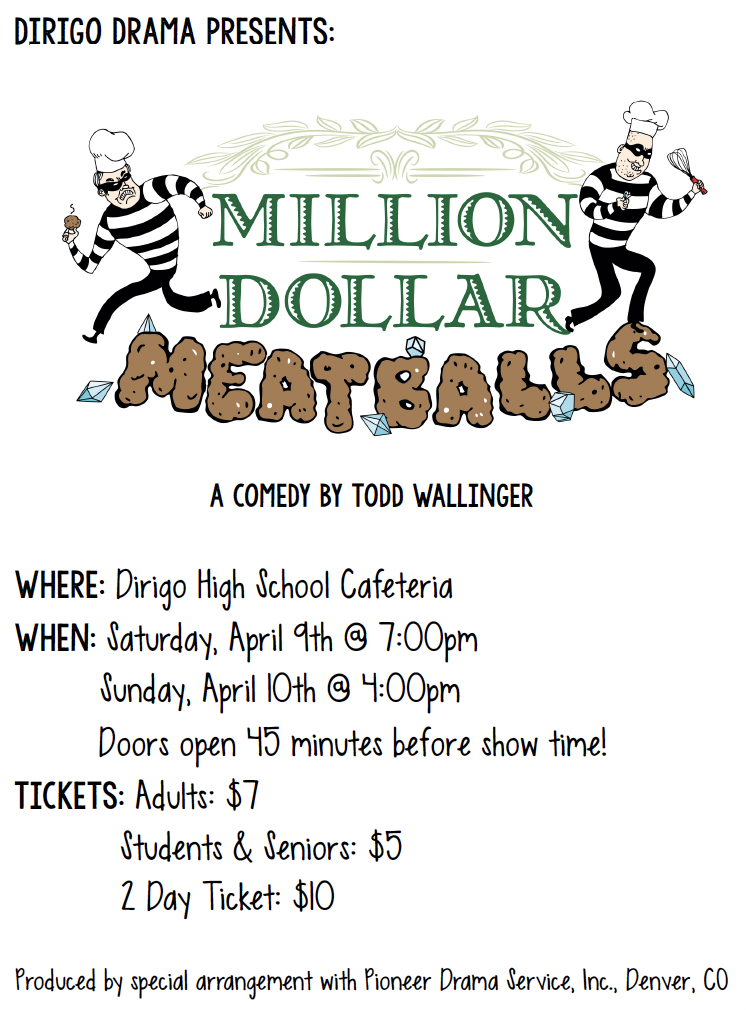 Auditions for Million Dollar Meatballs: Open to students from DMS & DHS. Location: Dirigo High School SCC Date: February 17th. 3-4:30pm.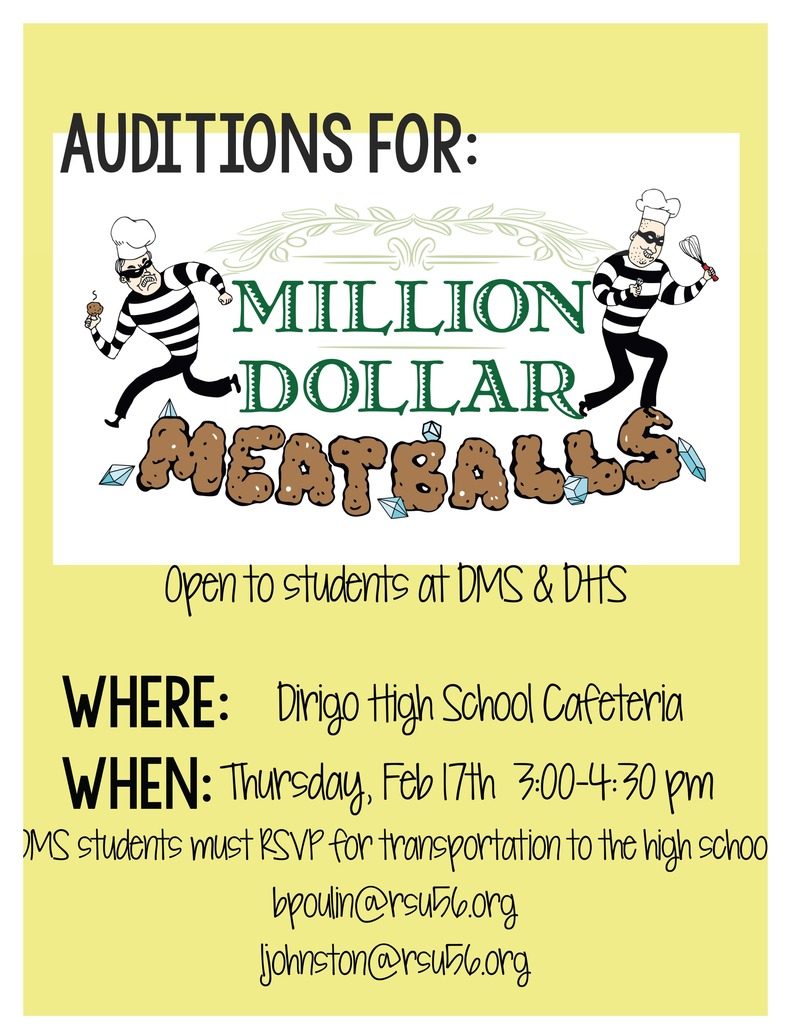 Good Morning from RSU 56. Due to the storm there will be no school in RSU 56 today 2/8/22. It will be a traditional snow day and RSU 56 will be closed. Stay safe!

Good Morning from RSU 56: Due to the storm we will be having a remote school day today, 2/4/22. There will be no in-person learning today. Please follow your building's remote instruction plans. Stay safe and Have a great weekend!

Please take a look at the following notice from River Valley Healthy Communities Coalition : We are partnering with Maine Public Health Nurses to host a Free Vaccine clinic on Friday, Feb 4th at the Rumford Town Hall auditorium. The clinic will be from 1-4pm. We are offering all vaccines, boosters and youth vaccines as well. Please share the flyer for more information. If anyone has any questions or concerns please contact us at 207-364-7408.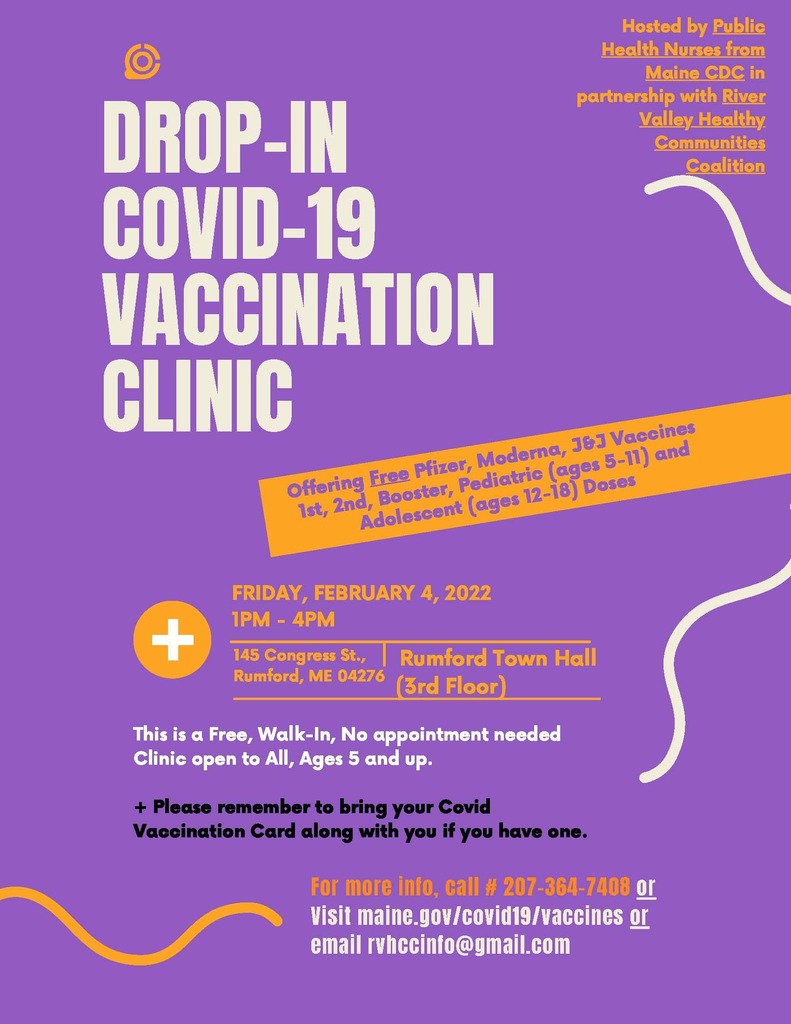 Good Morning from RSU 56. Busses 2 and 6 will not be able to pick kids up this morning due to a down tree and wire at the Grover bridge road in Carthage. Staff and students will need to go around in order to get to school from Carthage. If you have any questions contact the transportation department at 562-4300.
Due to the inclement weather and worsening road conditions all after school activities have been canceled for today, December, 8, 2021.

Remote Learning Lunches for possible snow days. If you would like your child to be sent home with breakfast and lunch for any remote storm days we may have, please fill out the form below and submit it. Storm pack meals will be sent home before by the first impending storm and are free for any student who may want one. These meals are intended to be consumed in the event of a school closure that will be a remote learning day for all.
https://forms.gle/Z2qYQdrDDDYhpc1p6

The RSU 56 School board voted to move to universal masking while Oxford county is designated in either high or significant risk. Currently Oxford County is listed as a high risk of transmission. RSU 56 will begin requiring all students and staff to wear masks in school starting tomorrow 9/15/2021.

TWKDMS ATHLETICS: A few main points: - Athletic paperwork needs to be turned in prior to the beginning of practice. - An up to date physical needs to be on file. If you have questions please contact the TWKDMS Main Office. *Note: All athletic paperwork can be found on the TW Kelly Dirigo Middle School website by selecting the following: 'Menu' --> 'Athletic Documents' *The following sports are being offered: Cross Country, Field Hockey, and Soccer. *Practices begin TUESDAY, SEPTEMBER 7th. *You can find the 'Sports Weekly Schedule' on the TW Kelly Dirigo Middle School website. *You can find the 'TWK Dirigo Middle School Athletics Website' on the TW Kelly Dirigo Middle School website. If you have any questions and/or concerns, feel free to contact us!
Good Afternoon! Nick Karavas, Athletic Director at TWKDMS, will be hosting a meeting for athletes and parents today, Wednesday, September 1st and tomorrow, Thursday, September 2nd from 6:30 - 7:30 PM via Zoom. The link is provided as the following:
https://zoom.us/j/3102099490?pwd=V2tQbmlkT0kzK2NEWHVlbWx3UDNLQT09
. You can also join by using the following information: Meeting ID: 310 209 9490 Passcode: Karavas


July 20, 2021 Dear RSU 56 Community, RSU 56 is slated to receive $2,685,176 in American Rescue Plan (ARP) Elementary and Secondary School Emergency Relief (ESSER 3) Funds. This notice contains a link to a survey regarding the use of ARP/ESSER 3 funds. Additionally, you may choose to attend one of the community forums that will be held to allow for in-person input. The dates and locations for the forums are: July 27, 2021 8:30am - 9:30am at Dirigo High School, SCC July 28, 2021, 6:00 - 7:00 pm at Dirigo High School, SCC Please note, you are not required to attend a forum to complete the survey. This is a chance for you to share your ideas regarding the use of this ARP ESSER funding. SURVEY LINK:
https://docs.google.com/forms/d/1yn_rRzhZ6qyi633MiuVkxcp4lNKl3lLilrE6LZ489S0/edit
Sincerely, Pam Doyen

River Valley Healthy Communities Coalition (RVHCC) has created a survey to better understand the current issues addressing food insecurity in the River Valley Region. Please click on the link below and take a moment to complete the survey. We appreciate and value your response!
https://www.surveymonkey.com/r/K56LJDB

Good Morning! Here is the link for the Dirigo Middle School's Final Assembly that will start at 9:30 this morning. The link will be live at 9:15.
https://youtu.be/vQukM18DT1M


Just a reminder, The RSU 56 School budget vote is tomorrow, Tuesday, June 8, 2021. Voting will occur in each of the four towns from 8:00am to 8:00pm. Please vote. More information on the budget can be found here:
https://www.rsu56.org/o/rsu-56/page/2021-2022-budget