Due to the extreme heat, our Fall Athletic meeting at 5:00 PM, and our Open House at 5:30 PM, there will be NO DMS practices for soccer, field hockey, or cross-country running today.

Good Morning! We are currently experiencing an outage for our Phone provider, so our incoming phone lines are not working. If you need to get a message to us, you can email the following people: Central Office:
tcox@rsu56.org
Dirigo High School:
acalden@rsu56.org
Dirigo Middle School:
lsanborn@rsu56.org
Dirigo Elementary School:
paverill@rsu56.org

Meeting Reminder: The Annual RSU 56 Budget Meeting is on Tuesday, May 23, 2023, at 6:30 pm. The budget documents can be found on our website at the following address:
https://www.rsu56.org/page/budget-23-24

Good Morning from RSU 56. Due to many roads being flooded and the water still rising, we will be having a remote school day in RSU 56 today, May 1, 2023. We apologize for the late notice.

Good Morning from RSU 56. We will have a 1 hour delay today, May 1st 2023, due to the rain storm and water on some roads.


RSU 56 Civil Rights Committee Meeting Upcoming - April 13, 2023, in the Middle School Art Room from 5:00-6:30

Good Morning from RSU 56. Due to the icy conditions this morning RSU 56 will have a 1 hour delay today, April 6, 2023.

Come join us for the Drama production: Lady Pirates of the Caribbean When: April 6 & 7 at 6PM Where: Dirigo High School SCC Cost: Adults $7, Students and Seniors $3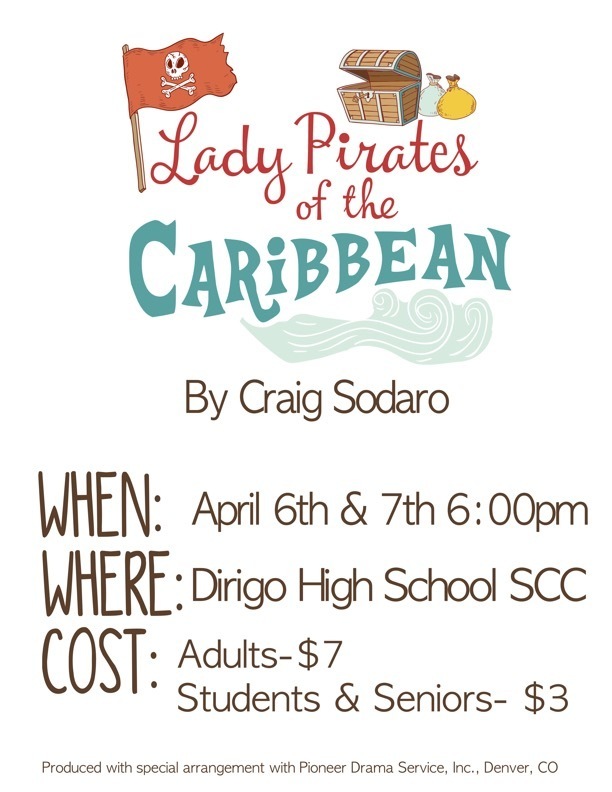 Job Posting - District Wide * (Anticipated) Bus Driver/Custodian (8 hours/day) Paid with ESSER funds through September 30, 2024 * Bus Driver (bus 8 MMCC run)/Custodian (8 hours/day)

The Maine Connectivity Authority is developing a statewide Broadband Action Plan for Maine. The plan will identify priorities for investment in broadband infrastructure and digital equity to advance our goal of ensuring that everyone in Maine can benefit from access to affordable, reliable, high-speed internet. To develop that plan, we are collecting feedback from Maine people, communities, businesses, and organizations to identify areas of need and their priorities for this generational investment in high-speed internet access. Please take the Maine Broadband Survey!
https://survey123.arcgis.com/share/613d40daec844226a139850afb3ef6ef

The RSU 56 School Board meeting scheduled for tonight, Tuesday, March 14, 2023 will be postponed to next Tuesday, March 21, 2023.

Good Morning from RSU 56. Due to the incoming storm, RSU 56 will have a remote learning day, today, March 14, 2023. Have a great day!

Substitute Workshop at Region 9 -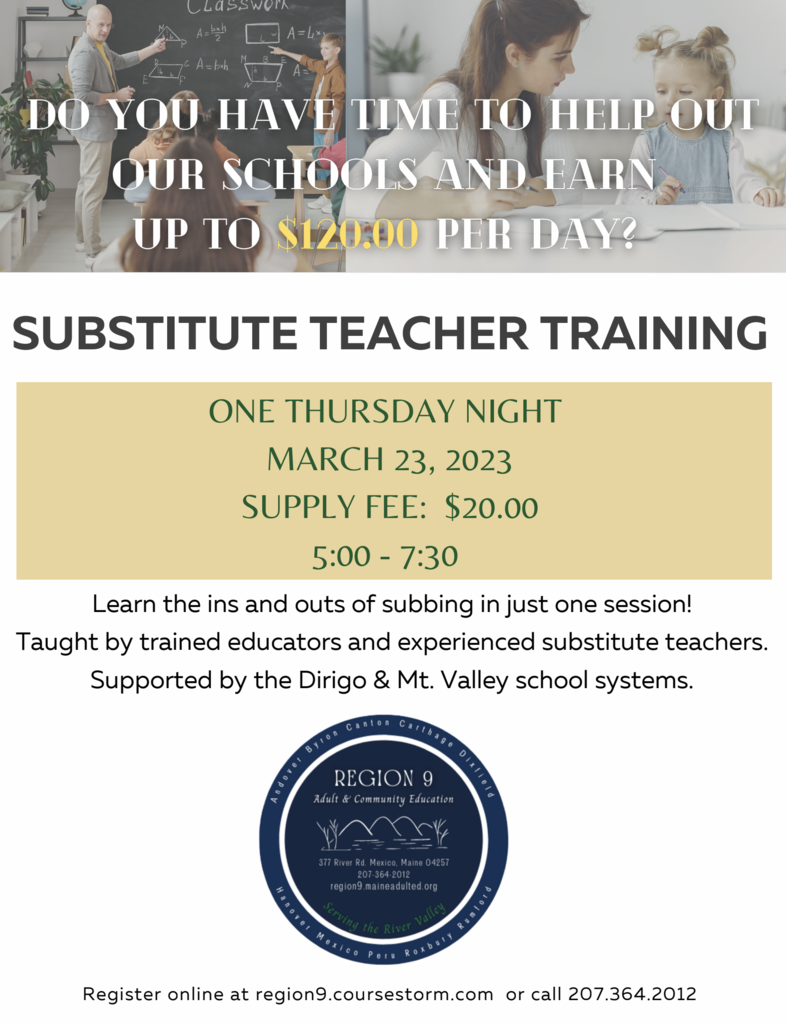 Changes are coming to MaineCare Continuous coverage requirements expire at the end of March 2023. Maine will need to conduct a full determination of eligibility for all persons receiving MaineCare benefits. What you should do now: Update your address – if you've moved, let MaineCare know your updated address, so they can contact you about your renewal. Make sure they also have your current email and phone number to reach you when it's time for renewal. You can call 1-855-797-4357, option 1 to update your information through an automated system, or visit MyMaineConnection.gov. What you can do later this year: Complete your renewal form. MaineCare will send you a renewal form by mail or e-notice that you need to complete. This form will arrive between April 2023 and March 2024. To make sure you do not miss it, be on the lookout for the envelope with a blue block with the renewal information and instructions. If you signed up for e-notices, you will get a message in your account when it is time for your renewal. When you get your renewal form, fill it out and return it right away to avoid a gap in coverage. If it's Blue, it's time to renew!

Dirigo K-8 Wrestling had 6 State Champions!! Hudson Lufkin Jeremiah Feilds Gunnar Knowlton Chase Gallant Arthur white Reid Robbins These boys have worked so hard this year and deserve all the credit for their hard work. If you see one of these jackets around town congratulate them on there state title!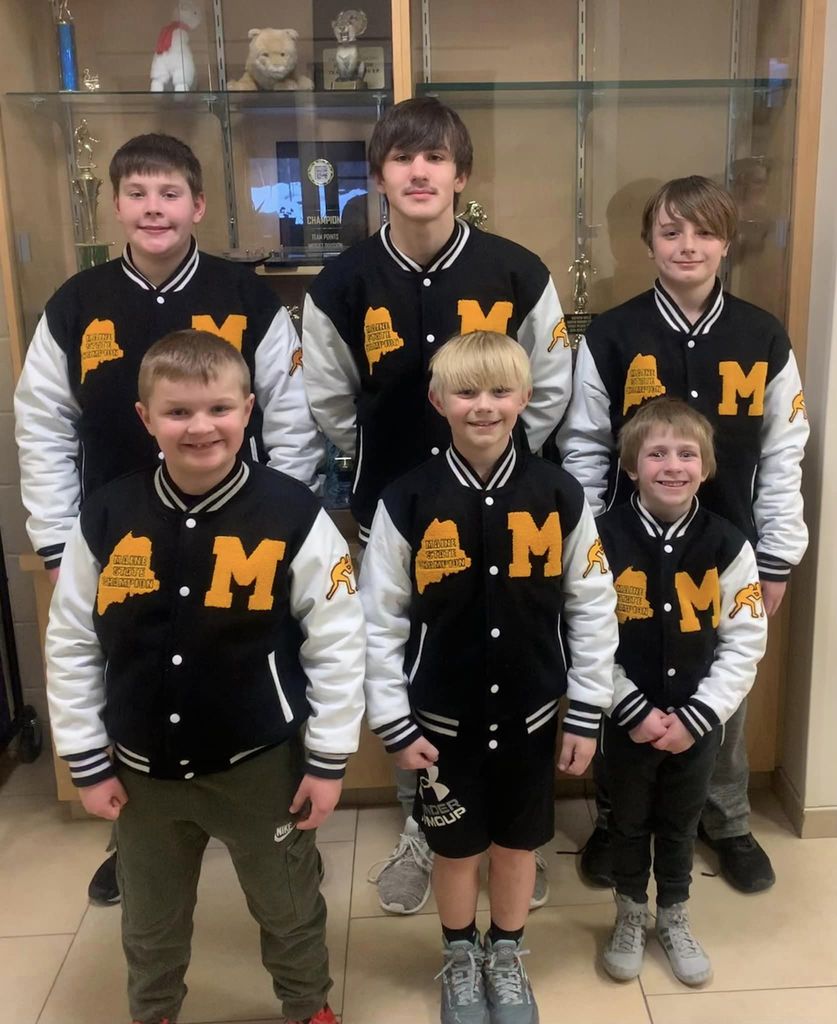 DIRIGO ATHLETICS UPDATE: Due to the timing of the incoming storm this weekend, the MPA has officially announced that ALL State Championship games for Saturday have been postponed. The Class C State Championship games have been postponed as the following: Location: Cross Insurance Center - Bangor Date: Tuesday, March 7, 2023 Start Times: 6:05 PM - Class C Girls 7:45 PM - Class C Boys The departure time will be posted as soon as possible. Thank you for your continued support and understanding during this time. Go Cougars!

Good Morning from RSU56. This message is to clarify the alert message sent a few minutes ago for today, March 2, 2023. There WILL be a normal bus run at the end of the school day. The After School Activity bus run that runs at 5PM will NOT be running today, and the Cougar Cub After school Program is cancelled as well.

Good Morning from RSU 56. Due to the weather, there will be no Cougar Cub After School Program at Dirigo Elementary School, or after school bus run today for RSU 56 today March 2, 2023.

Due to inclement weather, the school board meeting originally scheduled for tonight, 2/28/23 will be postponed to March 14.